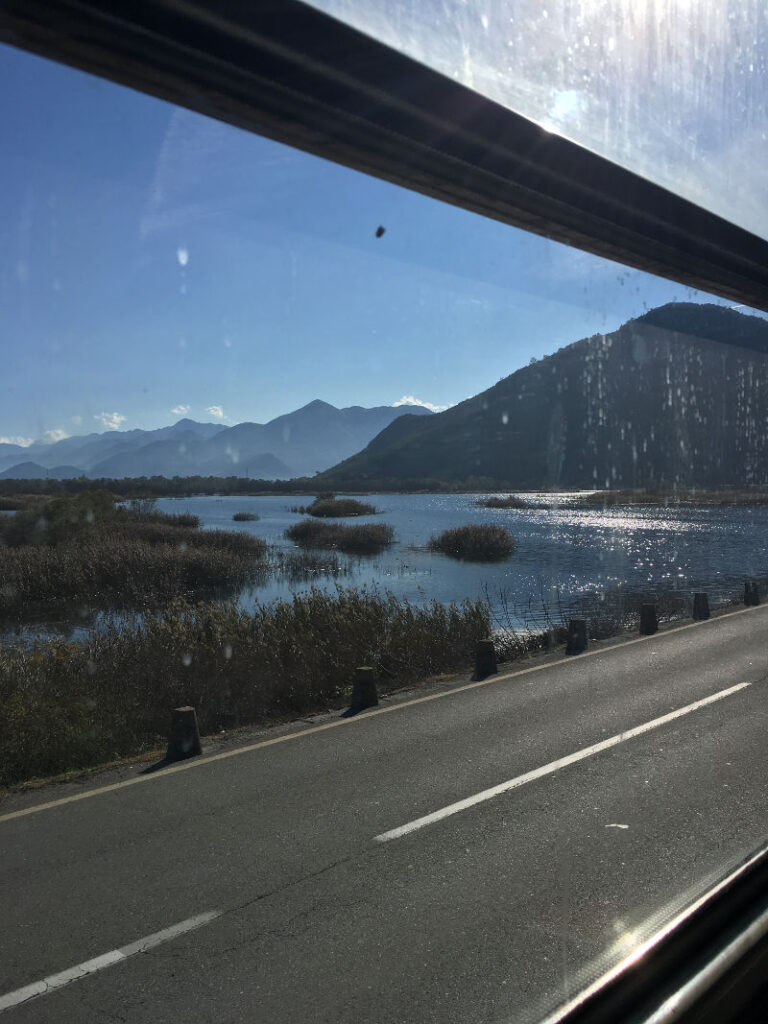 Having lived in Montenegro without a car for a couple of years (for me, everyone is driving on the wrong side of the road), I've taken public transport literally all over the country.
The trains and buses are pretty basic but are inexpensive, surprisingly frequent and usually on time. However, using them can be tricky without these few simple tips that will make your journeys around the country much, much easier.
Inter-City Buses in Montenegro
One of the upsides to living in Podgorica is the easy access to the rest of the country by bus – there are dozens of buses a day to all corners of the country, the ticket office staff speak English, and there is a computer screen telling you the time of arrivals and departures and even which platform your bus leaves from.
This is the pinnacle of bus station quality in Montenegro, and they get more and more basic from there (ranging from sheds with out of date printed timetables to benches outside to unmarked stops under trees on the side of the highway). 
But don't judge the bus system on the bus stations – with the very comprehensive bus schedule website, Busticket4.me, you can get around with ease. I've used this website to plan out trips all over the country and have never found the times or information to be wrong.
You can buy a ticket for your destination at the bigger stations (Podgorica, Kotor, Budva) but in smaller places you'll just buy a ticket from the driver. Beware though that they won't stop selling tickets even if seats are full; if you're not fast to get on the bus you could end up sitting on your backpack in the aisle, or standing for the whole journey.
I also wouldn't recommend buying tickets online for any journey unless you're leaving from Budva or Podgorica. You will most likely need to exchange your home printed ticket at the ticket window for your real ticket (and pay a fee for the privilege) and in smaller places it might not even be accepted as a ticket. 
Also, there's zero capability to scan a mobile ticket anywhere.
Local Buses in Montenegro
There are also local bus lines in popular regions, such as around Kotor and Boka Bay, and along the Budva coast.
The Blue Line covers the area from Herceg Novi to Kotor and Tivat, passing through Dobrota, Perast, Risan and other popular stops. The Blue Line website is only in Montenegrin but has timetables.
The Mediteran Expres runs from Budva to Petrovac, passing through Bećići, Sveti Stefan and other stops on the coast. It also goes the other direction form Budva to Jaz and Ploče beaches. It doesn't have a dedicated website but the Budva Tourist Office has the timetable (plus times are printed at the actual bus stops).
Trains in Montenegro
I love taking trains and gazing out the window for hours. As there are not a lot of train lines in the Balkans, I was excited to discover that there are two train lines in Montenegro: Bar to Bijelo Polje (which also extends onto Belgrade), and Podgorica to Nikšić.
The Bar to Podgorica section has the most trains with departures and arrivals almost every hour. It stops at a bunch of small stations like the airport, Vranjina and Virpazar, and costs 2.40 euro for the full journey. I've taken the Bar line train a million times, mostly to and from Podgorica to Sutomore, and the views going past Lake Skadar are stunning and worth the trip on their own.
The full Bar to Bijelo Polje service, also stopping in Kolašin and Mojkovac, runs four times a day, mostly early in the morning and late at night.
This line also runs the Bar to Belgrade train, which leaves once a day in the evening from Bar. It also stops at the main stations in Sutomore, Podgorica, Kolašin and Bijelo Polje, and costs 21 euro for second class. I'm told it has spectacular views along the way, but in current times it is only a night train.
A train line also runs from Podgorica to Nikšić, stopping in Danilovgrad, for 2.80 euro for the journey. This only runs four times a day compared to the half-hourly buses to Nikšić, but hey, it's a train!
The train information and timetable site is at zcg-prevoz.me.
Even small stations usually have a ticket desk, but if you run out of time or there isn't one – don't worry, you can buy a ticket from the conductor on the train without an extra charge or fine.
While the timetable is pretty reliable, the trains themselves do vary a lot in quality. Some are a time travel trip back to the sixties with their outdated compartments and windows that are stuck shut. Others are surprisingly modern with bicycle racks and open, modern carriages. It's a lottery which one you'll get, however.
Enjoy your travels around Montenegro! Send me a message if you need any further info on getting public transport around the place.