On the outskirts of the capital city of Montenegro, Podgorica, are the ruins of the Roman town of Doclea – Duklja in the local language. The town dates back around 2000 years and was lived in until around 500 AD, when either an earthquake (or an invasion) led to its destruction.
It's roughly an hour's walk from the centre of Podgorica, near the village of Rogami and where the Morača and Zeta rivers meet. It's in a rather beautiful spot, bounded by river canyons and with mountains as a backdrop.
Outside the centre of the town and the main archaeological site, there are some ruins of the Christian area. It's a little hidden, across a small road and behind a car park, but rather beautiful and atmospheric.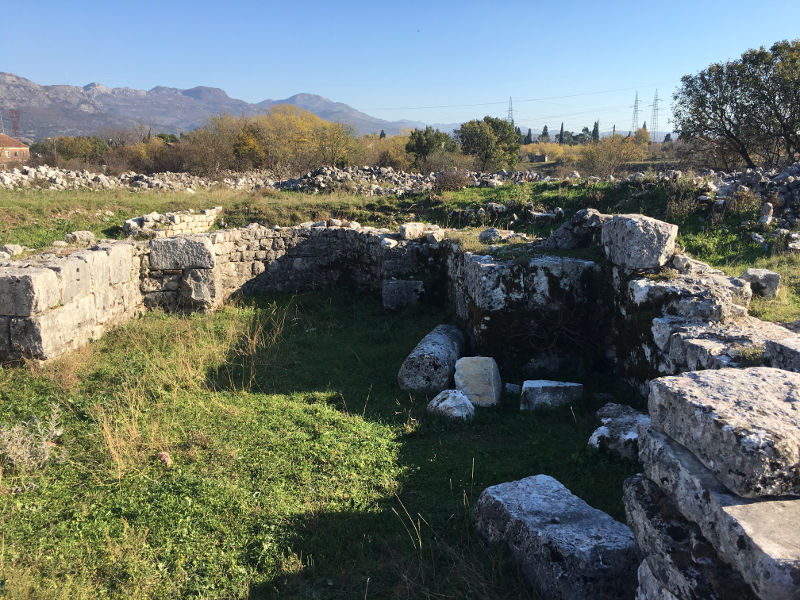 There are ruins of a church and basilica, and it's possible to see the obvious shape of the church and where the altar would have been.
Entering into the main town there is a sign with a map and legend for the Roman ruins. There is also a hut where an entrance fee should probably be paid (but I've yet to see anyone actually manning the building).
Inside the town, each building has a useful map and description in both Montenegrin and English.
The day of my visit the forum was busy (it was a sunny Sunday and inter-city travel was banned) and locals parked their bikes on the stones.
Some of the best and more interesting archaelogical finds are placed around the edges of the forum, like this stone with the spiral carving.
One corner of the forum still has its walls.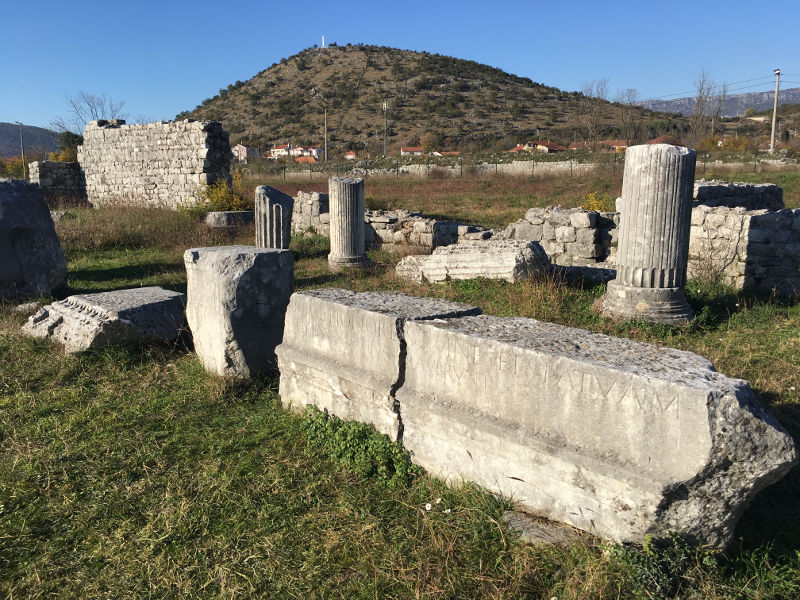 The far end of the forum has this collection of stones, columns and lintels.
One of the best pieces is the stone with carved lettering.
To the east of the forum are more beautifully decorated stones.
And this amazing carving. There aren't any signs or online information I could find so I don't know who this is – a goddess perhaps?
The size of the forum was surprising – the size of a modern town square.
Doclea might be the most important archaeological site in Montenegro, but my favourite fact about it is that Doclea was known throughout the region for its excellent cheese! Some things haven't changed in 2000 years.
More resources:
Official Site for the Ancient City of Doclea