I'd never seen Plužine, a northern region bordering Bosnia, in any tourist brochures before and had considered it a last resort for a weekend trip.
But in the middle of a very hot summer with two imperatives: get to as high an altitude as possible, and as far away from the coastal crowds as possible, I went exploring.
And was very pleasantly surprised – at both the lack of crowds and the spectacular views.
Pivsko Jezero
The area is most well known for Pivsko Jezero (this translates to Piva Lake, which sadly is not a lake of beer), an artificial lake created in the 1970s for a hydro-electric dam.
The water is a rather magical and unreal looking deep blue-green colour, and spectacular from its many angles, both near the town of Plužine and along the canyon that runs many kilometres to the south.
It's possible to do boat trips on the lake, or there are several cafes in the town where you can sit and look out at the lake.
Donja Brezna
On the road to the town of Plužine, you will see plenty of signs exhorting you to stop at Etno Selo Montenegro. It really is worth a visit (see the next section for more details), but so is the valley it is located in, Brezna.
Brezna is a incredibly peaceful valley just off the road, named for and known for its birch trees. I've never seen so many anywhere else in the country. There are two parts, Dornja Brezna (lower Brezna) the wider section closer to the main road, and Gornja Brezna, which is the more distant, more narrow and more treed part of the valley.
The residents have put a lot of effort into labelling all the attractions of Brezna, including signs for each farmhouse and what they sell (cheese, prsut, mushrooms, paintings, whatever). I haven't been brave enough to knock on anyone's door to make a purchase but, next time!
There are also well marked signs for hikes to the two mountains bordering the valley, viewpoints of the Komarnica canyon, lover's strolls, herb walks and more.
There's enough to do for a couple of days, although I've been to this area a few times and still haven't done most of them. Usually because the valley's slow pace gets to me and I end up sitting under a tree for the afternoon instead.
Etno Selo Restaurants
I love a good etno selo restaurant and Plužine has two excellent ones: Etno Selo Montenegro and Etno Selo Izlazak.
Etno Selo Montenegro is in the above-mentioned Brezna valley. There they have a number of little houses with displays of old Montenegrin life, weekend houses for rent, some amusing yearly events like the competition for who can lie down the longest (Montenegrins always win) and a super chill outdoor restaurant with a dozen rustic tables under the trees.
They serve all the traditional foods but portion sizes are IMMENSE, easily for four people, so be warned!
The restaurant also has a lot of well cared for and relaxed dogs and cats about the place (that will probably come to greet you when they smell your lunch arriving).
Etno Selo Izlazak is about 20 minutes further on from the Brezna valley, and is a totally different vibe. It's perched high up on the edge of the narrowest part of the canyon with a fantastic view of the blue-green water below from the breezy, shaded wooden tables.
They also serve excellent priganice and are also just a nice place for a coffee to fuel you up before starting off on an interesting and very unknown road trip…
The Plužine Ring
I call this route the Plužine ring as it passes through a gentler version of the much same kind of scenery as the Durmitor Ring – treeless high mountain landscapes, winding descents in forested canyons, incredibly isolated villages, and in the summer, past a lot of lonely shepherds hanging out with noone but their sheep for company.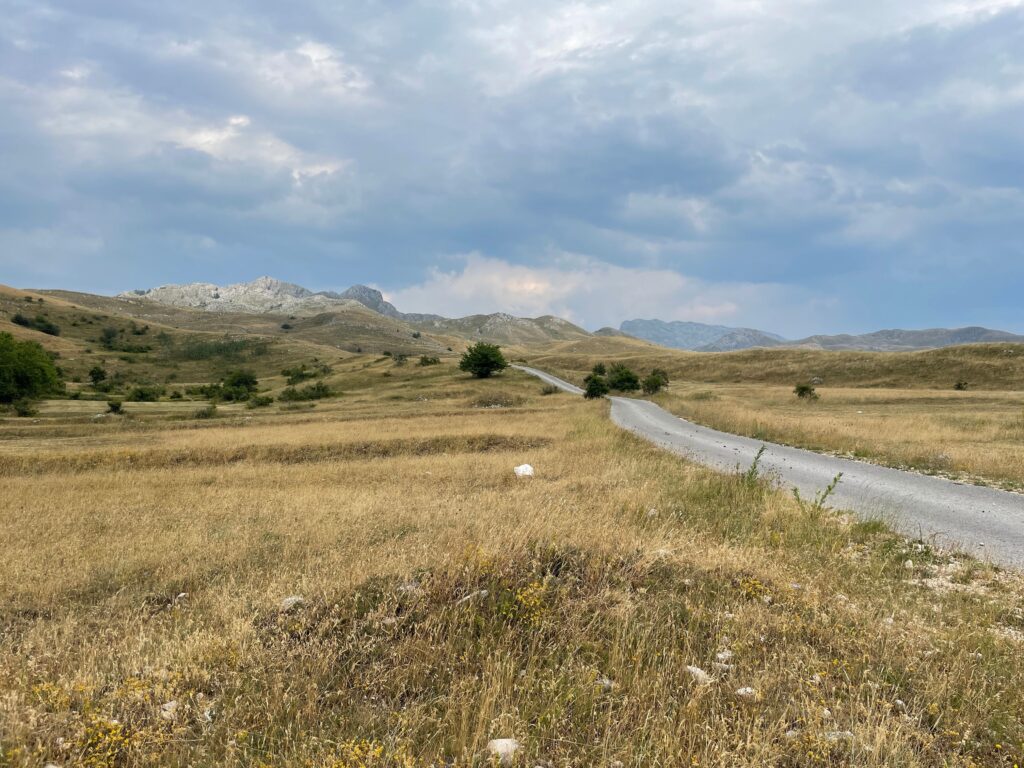 But the main and most important difference on this drive is there are no campers clogging the road, no groups of bikers, and zero tourists. In high summer in Montenegro, this is a rare and precious thing.
There is also a site of stećci on this drive, the medieval grave markers that I find so fascinating. They're in a lonely and wind-swept spot on the far side of the village of Dubljevići. These unknown tribes definitely had a nice aesthetic sensibility: their carvings and their choice of burial locations are always quality.
From the stećci, you pass through some lonely farmsteads and then descend into the forested canyon and the village of Boričje. When the forest opens out, you find yourself ending the drive with dramatic finish along the edge of Piva Lake through several hand-carved tunnels in the rock.
There are also beautiful views of Piva Lake from a dozen viewpoints along this last stretch, including of the bridge that will finally take you back to the town of Plužine and to civilisation.
To start this drive, just continue further down the road to Izlazak, cross the small bridge across the Piva, then climb up the other side of the canyon. At the top there is a crossroads with a sign for Bezuje, turn left here.
From there, there are yellow hiking signs at all the major crossroads, just follow the ones pointing to 'Piva most / bridge'.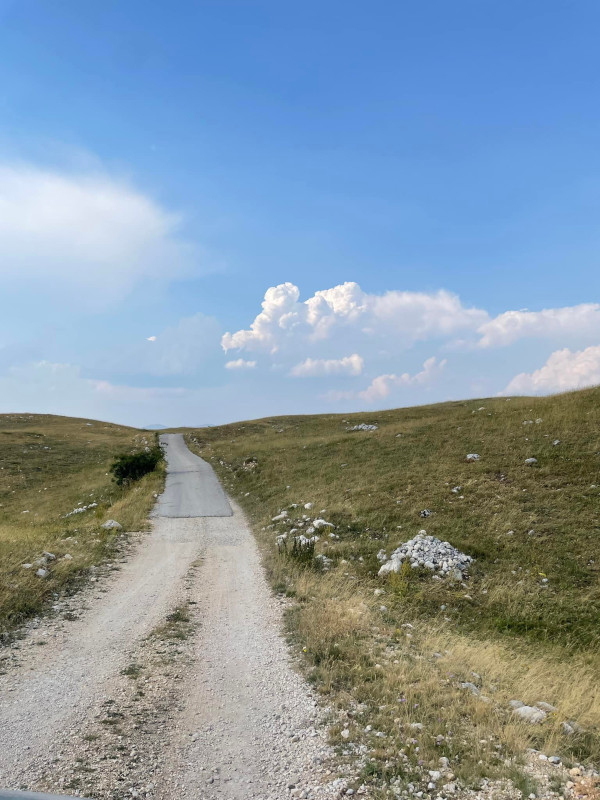 This road on this circuit, while always narrow and one lane wide, is actually paved almost the entire way, except for one section not far beyond the stećci. This is a 2km section of bone-rattling macadam but it is passable by normal cars – you don't need a 4W4 – as it's not holed or dangerous, just a bit rocky and slow to drive.
This circuit is however fairly challenging for the driver, with hundreds of small curves, ascents, and descents. The upside is usually long views of the road ahead (no getting surprised by oncoming cars) — and the fact that there are virtually no cars on this road anyway.
The Road to Nevidio
It's also possible to turn right at the crossroads at the top of the canyon opposite Izlazak, and head through the village of Bezuje. Continuing from there, this road will eventually take you to Nevidio canyon and then to the main road to Žabljak.
I have drive on my list, but have yet to try it as I'm told there are very long stretches of macadam in between the paved sections and my patience (and car) isn't up to that.
Access to Plužine
The other attraction of Plužine is how easy it is to get there. From Podgorica it is one and a half hour drive; from the coast around two hours. From both starting points, the road is wide, two lanes, and well maintained – like a normal road in any other country.
It makes a nice change from heart-stopping canyon roads like the way to Kolašin or the nausea-inducing serpentines in the forest like the way to Žabljak.
Enjoy this quiet, much less touristed section of the north!